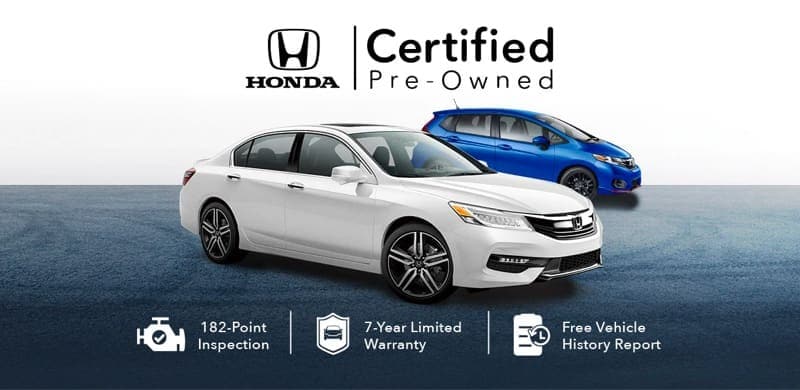 Certified Pre-Owned
Nothing compares to the quality of a Honda. No other program comes close.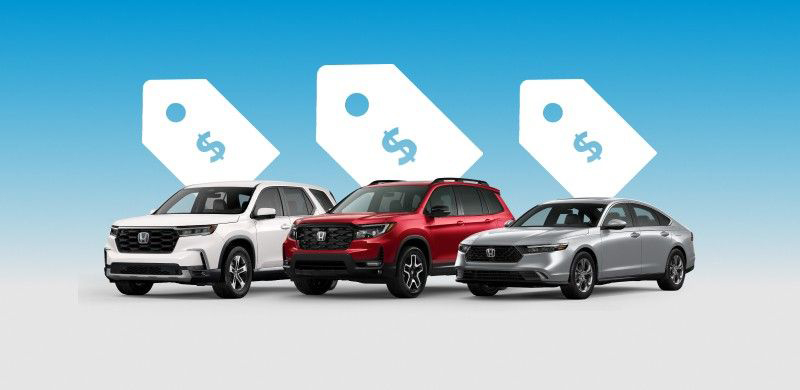 Current Offers
See this month's featured current offers going on now on new Honda vehicles.
Our Reviews
Charlie helped us find the exact car we were looking for! Spacious, new, amazing!!! Definitely going to keep coming back. They have our business for life!
We had a great experience! Everyone was helpful, thorough and kind. The whole process took some time (understandably), but the few beings who assisted us made sure we were comfortable and content (including our three year old in tow). Very "easy-going" attitudes which was/is appreciated! And we love our new vehicle!
Wyntur helped me with my trade in and was incredibly nice and easy to work with She made the experience fun not stressful definitely happy with the customer service I received. Thank you again Wyntur!
Tyler & Michael were great ! They answered all our questions and went over and beyond to ensure we were happy with our purchase.
Very helpful, thoroughly explained every feature of the car, very helpful when it came to pricing and monthly payments. Did not feel pressured at all.
Great service I feel comfortable while I was there Taylor was very helpful Charle brown was very helpful and friendly
Leanne is AMAZING! She went over an beyond for me and my situation (hitting a deer and not really wanting to need a new car), even driving me to return my rental car, helping me unpack my personal belongings from my totaled car from rental into the car I purchased) and picking my kid up from school. She is the best!!! I felt so comfortable with her. With covid and getting your credit ran, she makes you feel safe and comfortable! I walked away with a car that met the needs of myself and my children. She is FANTASTIC!!! I recommend this West hills but because of her! She is a asset to anywhere she goes.
We had an easy, stress-free experience working with Tyler Hughes at West Hills. Everyone at the dealership was friendly and helpful.
Bought my first car with the help of Wintur, she was incredibly helpful and so nice. Overall a wonderful experience!
Very friendly people, didnt expect to have a nice chat with multiple people as we waited. Charlie is your man if you are looking for a good experience and/or if you know Czech
Tyler was very friendly and knowledgeable about the car I was interested in without being overbearing. After I purchased the vehicle, he assisted me in setting up the computer to the settings I preferred. I would definitely ask for him when it's time for another purchase.
Friendly and skilled very knowledgeable I enjoyed my time believe it facts Ronald went over every detail of the cat I bought. Thanks again for the help
The experience here was great. I was helped by Wyntur, she was super wonderful and helpful.
Great staff and made my purchase of the Honda Odyssey great!
(TL;DR at the bottom!) This review is specifically pertaining to the Service Department. I just had an amazing experience here. This is different from the other times I've been here throughout the past 4+ years. I came in for regularly scheduled maintenance and not sure who was the tech that checked me in (long-haired brunette), but she was very nice and very transparent, and asked me if I wanted to take advantage of the wiper-blade replacement that I had already pre-paid for during the purchase of my vehicle. This is a MAJOR plus, because there had been many times before where they replaced them without asking me. She has awesome communication skills as well, because she had updated my service advisor of certain decisions I had made with her, that the advisor and I would later discuss. She told me approximately what time the car would be done and back to me (3pm) and they held their promise! Called me almost on the dot. Now, this "debrief" experience was hands down the best experience I've had in all the years I have been coming here. James Belyea was extremely informative and transparent, all while practicing AMAZING customer service skills. He was the nicest and most caring advisor I have dealt with here and I recommend anybody to be assisted by him. Is he even from here? Because his level of Godly customer service doesn't compare to overall standards of gloomy Washington in general. Unfortunately, I am moving out of state or else I would ask for him to be my advisor every single time! TL;DR - Service Dept: The person who checked me in was really nice, asked the right questions, was transparent, and had great communication skills between me and the service advisor. James has stellar customer service skills that far exceeds Washington standards and you should go out of your way to ask for him. Extremely informative, transparent, amazingly nice.
Awesome experience! I've always been extremely skeptical of dealerships, But our car buying experience really changed my outlook on this dealership in particular. Shout out to Martin for making our experience a real 5 stars!You rock, Dude!!!
Great service! Helped me find the right car. Super friendly and amazing customer service. Trade in my cross trek to get this super nice car
Tevin has been very helpful and responsive to my needs. I recommend this dealership. It's tough to find good hybrid SUVs right now, so we're happy to drive away with one!
West hills honda is great! Everyone was very friendly and helpful. Given the craziness of the pandemic the entire staff did a wonderful job. Meow.
Mike is an outstanding individual. He listened to our needs and helped us find the perfect vehicle. We love our new car. Need a vehicle, give Mike a call!
West Hill Honda is a great place to purchase a new vehicle. Especially if you go to Scott Heston in the car sales for department for a great deal on a brand vehicle. We're a military family of four that recently started to experience mechanical issues with our 2006 Honda odyssey. This was a big problem because we have a cross country road trip in a few weeks. 🙃After getting a $15,000+ maintenance and repair quote from the West Hill Honda services department we decided it was time to let our 2006 Honda odyssey go. Sadly we walked over to the Honda sales department to see if they had any 2021 Honda odyssey's for sale. Their was a gentleman standing a few feet away from us and initially we couldn't tell if he even worked for Honda. I walked over to him and asked if he knew where we could find someone to help us look for a new car. He told us we were speaking to him right now and how can I help you. 😄😁 I love West Hill Honda because they have knowledgeable none aggressive sales men that make you feel like they genuinely want to help you. . A few hours later we drove away from West Hill Honda with a brand new 2021 Honda pilot Special edition under MSRP price and a over price trade in credit for our 2006 Honda odyssey. 😲😁Thank you Scott Heston for working with us and getting us such an affordable and safe vehicle. Thank you to the finance department that helped us to get a great deal on a protection plan for our 2021 Honda pilot. Stephen as well as the manager of the finance department took the time to review and explain our contract with us to assure the numbers were correct and that we understood the contract we signed. This is the third vehicle we've purchased from West Hill Honda and it would be our last if we weren't moving across the country.
Went in to look at two different options, 1) car for our almost 16 year old daughter or 2) new car for mama. Had the pleasure of working with Wyntur throughout the process. From the get go, she listened to what we had to say, showed us multiple options and had the patience of a saint as we went back and forth. Lucky for her, we decided to lease two vehicles. This was by far the most pleasant experience we've had buying a car. No pressure from our salesperson, but someone who truly took the time to build rapport and listen. Kudos to West Hills Honda for having such a great staff member!
Charlie Brown… he's awesome at what he does, No pressure, got me into the perfect vehicle for me. Great service, great place, thank you! Go find Charlie Brown, he's the Best!!
Very comfortable sales room. Tyler was very knowledgeable & patient with my numerous questions! He is personable & made me feel at ease! I would buy from him again!
Tyler was a great sales person we checked out cars i thought I'd love and just were not clicking he had an idea for a car ive never thought of and I love it. Never met a better sales person. He was very experienced, knew all the facts on the cars, and wasn't pushy it felt like he was a friend rather than a salesman!

Welcome to West Hills Honda
Our Bremerton, WA Honda dealership, part of West Hills Auto Plex, has served the Seattle Area and the Kitsap Peninsula for years, providing
new
and
used
Honda sales,
service
and
parts
to drivers from the Bainbridge Island, Silverdale, Port Orchard, Gig Harbor, Poulsbo, Seattle, and Tacoma areas and beyond. We are also conveniently located right off of Route 3. While our extensive inventory of new and used Honda vehicles makes us a great place to buy in Bremerton, it's our friendly
staff
and customer-first attitude that keeps our customers coming back year after year.
Get Directions To West Hills Honda